The Beehive Monitoring System
Whether you are a citizen scientist or a beginning beekeeper we have the tools you need to manage your bees and reach your goals.  The only way to know what is going on in your bee hive is to physically inspect the hive or collect environmental data which can help paint a picture of what is going on in your hive.  Physical inspections are necessary for proper bee management but every time you open up a hive you can diminish your bee's gathering capacity for up to three days afterward.
We offer two Hive Kits that include one Hive Heart 3.0 and either the SX or 3W Scale.
Hive Heart 3.0
The new heart of your hive captures temperature, humidity, and sound data as often as every 10 minutes and internally stores it for up to 2 months. You then can upload this data to your free cloud account for 5 years of free storage.
Once you upload the data to your free cloud account our software will analyze your data and tell you the health of your hive.  Also you can download your data to a spreadsheet for sharing at any time.
And installing your heart is so easy you can do it in minutes.  Just lay your heart on the brood frames. Then you download the mobile application, scanned the QR code that is included in the package and the application automatically connects to your heart. You do not have to set anything up and you're ready to collect your hive data by Bluetooth on your phone or by wifi if available.
The other key part of your Hive Kit is your scale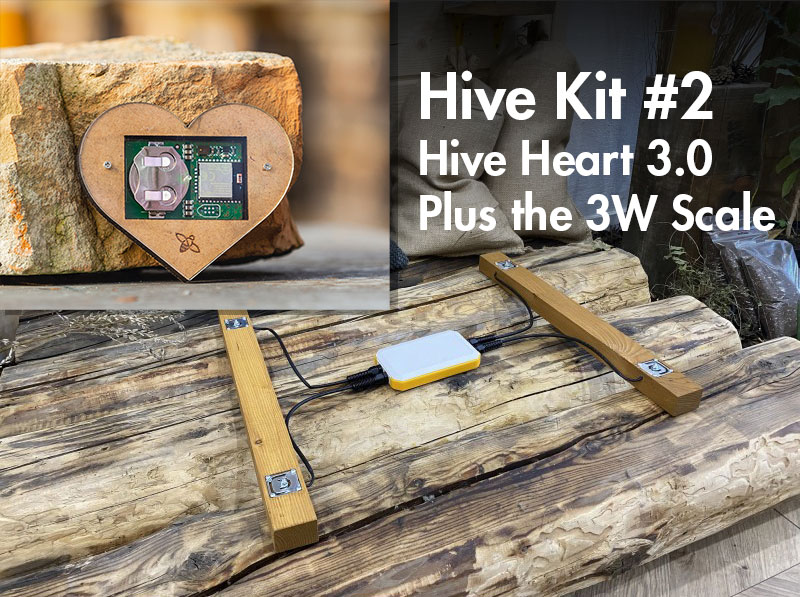 Your scale data will tell you if your hive is gaining or losing weight.  And it will also give you an estimate on how many bees are flying in or out of your hive.  If you are in your honey flow (that time when flowers are plentiful) and your hive is losing weight you need to do a physical inspection immediately.  When you have a large drop in weight you also need to inspect because your bees may have swarmed.  Our software will give you a 21 day warning for swarming, unusual weight changes, and queen status.  These warnings may not mean that you have a probably but they are designed to give you a heads up so that you can do a physical inspection.
Installing your scale is just as easy as it for your hive heart.  If you have already installed a heart all you do is place your hive on the scale and your ready to start collecting your hive's data.
We offer 2 hive scale options the XS model and the 3W model.  The XS hive is the best available.  It measures loads of up to 880 pounds within a half an ounce accuracy.  The XS hive scale has a flat continuous top so that it can fit most types of hive boxes.  You should never be disappointed in your XS hive scale.
SX Hive Scale
1. hive weight up to 880 pounds 
2. very good measurement accuracy within a ½ ounce 
3. Adjusts for temperature with a stability of 0.1g/celsius degree
4. you can see how many bees fly out from hive on morning 🙂
5. Collect outdoor temperature data
6. Collect outdoor humidity data
7. Follow daily, weekly, monthly nectar flow
8. See your data as numbers and graphs
9. Collect data up to every 10 minutes
10. internal memory for 2 months
11. cloud archive for 5 years of data
12. communication by smartphone via Bluetooth
13. communication by external GSM module
14. free mobile app for both iPhone, Android and personal computer
15. open air communication distance 300 ft, after insertion into the hive 15 to 100 ft
16. export to Excel
17. Rechargeable battery is included
18.battery duration for up to year (based on usage)
19. no additional fees
3W Hive Scale
1. hive weight up to 440 pounds 
2. measurement accuracy within 1.1 pounds 
3. you can see how many bees fly out from hive on morning 🙂
4. Collect outdoor temperature data
5. Collect outdoor humidity data
6. Follow daily, weekly, monthly nectar flow
7. See your data as numbers and graphs
8. Collect data up to every 10 minutes
9. internal memory for 2 months
10. cloud archive for 5 years of data
11. communication by smartphone via Bluetooth
12. communication by external GSM module
13. free mobile app for both iPhone, Android and personal computer
14. open air communication distance 300 ft, after insertion into the hive 15 to 100 ft
15. export to Excel
16. Rechargeable battery is included
17.battery duration for up to 6 months (based on usage)
18. no additional fees